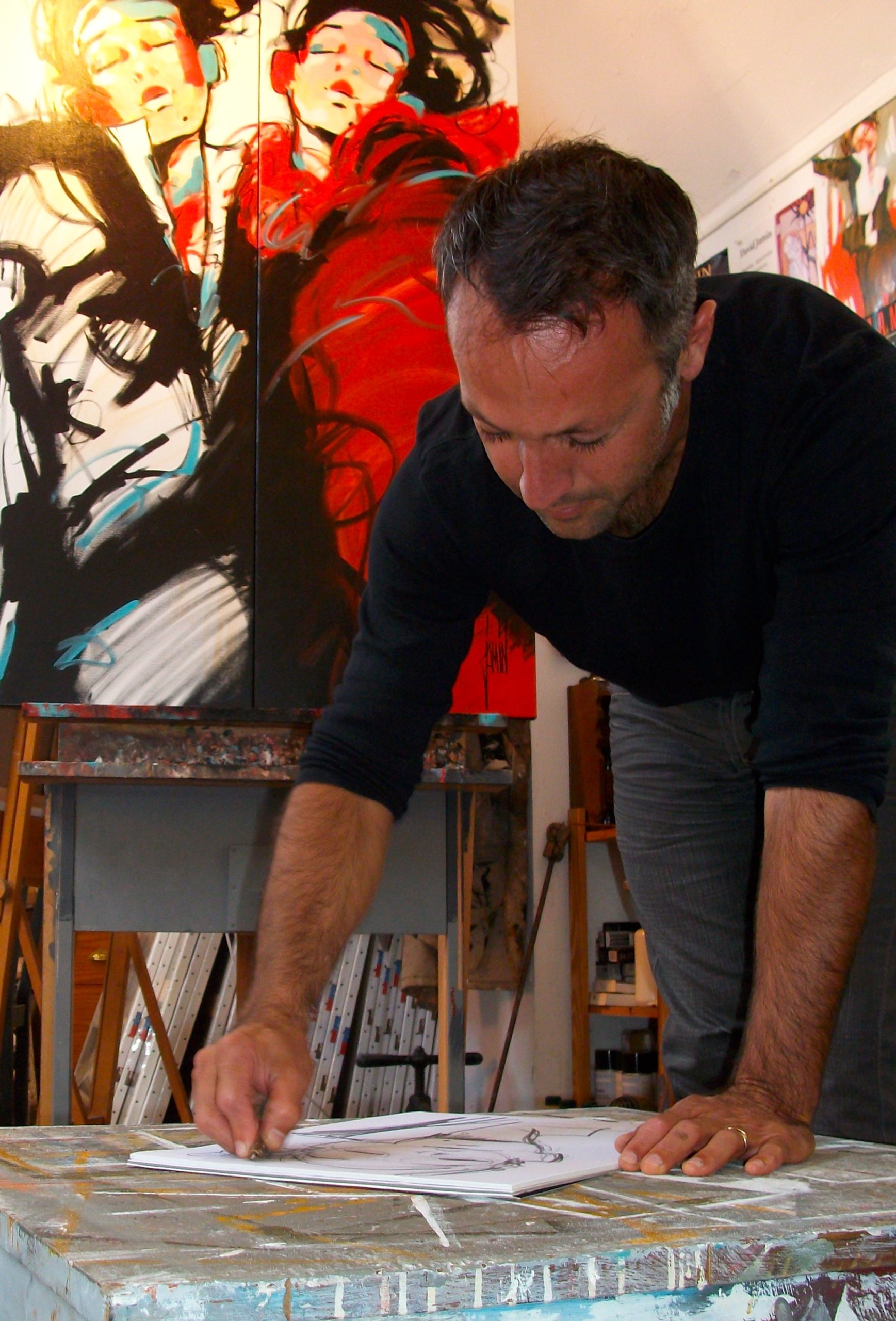 David Jamin was born on November 24, 1970 in Nîmes (30).
Among the many topics he has dealt with so far, man occupies a prominent place. Under the name INTROPORTRAIT, he gives a face to the sensitive part of human beings.
After fifteen years spent on the Opal Coast, where his first workshop was in Hames-Boucres (62), David finally set up his easel in Uzès (30) in 2013.
His works are exhibited in many galleries throughout France but also abroad (Europe, United States, South Korea, China, Mexico…).
Many events marked his life as a painter, to the rhythm of meetings and travels. But it is his life as a man that we can read in his works, the sincerity of which is often unsettling. Through the different "periods", you will discover both all the sensitivity and the strength that characterize him.
David lives his painting as he lives his life, with passion, ardor and determination!
Séverine Jamin
HISTORY AND COTATION
The auction results and David's quotation are available on: www.i-cac.fr, Akoun, Artprice, and www.osenat.com.
From the very first exhibitions in 1997, David received the encouragement of art professionals, through prestigious distinctions and the place he was accorded in renowned galleries.
The emotion in the public eye remains his greatest reward! In 2013, Natacha Bouchart, Senator Mayor of Calais bought for the city the work entitled
"Les Bourgeois de Calais – La Stupeur", a 120x120cm acrylic on canvas which now remains on display in the Town Hall of the City of Six Bourgeois. Quite a symbol! It is indeed in Calais itself that David's first exhibitions took place.
The theme of Mother & Child comes up occasionally in David's work. He paints rightfully the atmosphere which surrounds this "triumph of life". The advent of paintings featuring a mother and her child, and also a father and his child, was often the origin of beautiful projects.
Thus in May 2013, the "Maternité bleue", painted in 2010, made its final entry into the Saint Omer church in Bouquehault (62). In fact, when Eric Schollaert, Mayor of Bouquehault, discovered this oil on canvas sized 89x116cm, he had the idea of giving it a very special place: he appealed to patrons to install the work in the church of his village. Today, anyone can go there and contemplate it …
A few years earlier, another Mother & Child painting entered the main hall of the Jules Verne Clinic in Nantes (44) following its acquisition by the Establishment itself, when it opened. This 80x80cm oil on canvas, painted in 2003, now welcomes future parents, young mothers and their families who are experiencing this unforgettable moment of the birth of a child.
David could not imagine more beautiful token and more beautiful destinies for these works which are particularly close to his heart.